Tonight is the night many Spurs fans have been looking forward too for years. Last time we've been in Europe? 1960-61. Every Spurs fans knows (or should know) their history.
But everything we and the club have fought and cheered for over the course of the last 122 years is just that, history. Tonight is arguably the biggest game in Tottenham's history.
And we play a team named Young Boys. Fantastic.
They took it to us early last week. Did Harry and Co. (and everyone else) underestimate them? Of course. Within 30 minutes we were down 3-0. Young Boys are a decent side, shit, they beat Fenerbache just to get this far.
There's one gigantic difference tonight. We are at the Lane. 36,000 screaming fans are going to let our boys that we are behind them, no matter what. I really wish I didn't have to work tonight. To hear the singing from the terraces will be amazing. Watching our lilywhites play the most beautiful football (hopefully) and stick a few early goals against Young Boys will be immense. I could only imagine what Seven Sisters will look like after our secure place in Champions League Group Stages. Downloading of the game will suffice for me tonight I guess.
So how are we going to do it? Our forwards have been banged up lately. Defoe, who will go under the knife by weeks end can only play 45 minutes. BBC Sport right now is saying Defoe will start up top with Crouch. When Defoe comes off, I think Gio should come on for him. If that link up isn't working, Keane should come on to play the 9 role and hopefully those two up top can link. Then, bring on Pavy if all else fails.
Mids should be Palacios and Huddlestone in the middle. Shame about Luka. He cannot stay healthy. As much as we need Luka as the playmaker, THudds is turning into the quarterback of the field. Palacios needs to demolish every midfielder in challenges. Let Bale and Lennon run wild on the wings, terrorizing their wing backs. If we need to bring others on, Niko should get a go. If Harry does want to try and run a 4-5-1, let Jenas come out (shudder) and play an attacking front in the middle of the park. Now that I think about it, how ironic would it be if Jenas gets our lone goal to put us through to the Groups? For as much shit and flack JJ takes from all Spurs fans, I wouldn't care if he never did anything else for us, so as long as he scores.
I'm not worried about our defense. Bassong and Dawson looked lost last week. SeBass will be on the bench for this one to start. Daws and our King will be the two in the middle. Ledley King, Champions League match, at the Lane. He has deserved this for years.
To dare is to do. Ping that ball, play total football, put a bunch past them and move on with it. No hiccups on defense, no stupid giveaways.
Tonight is what every Spurs fan has waited for, and I for one, am not ready to quit hearing the Champions League anthem.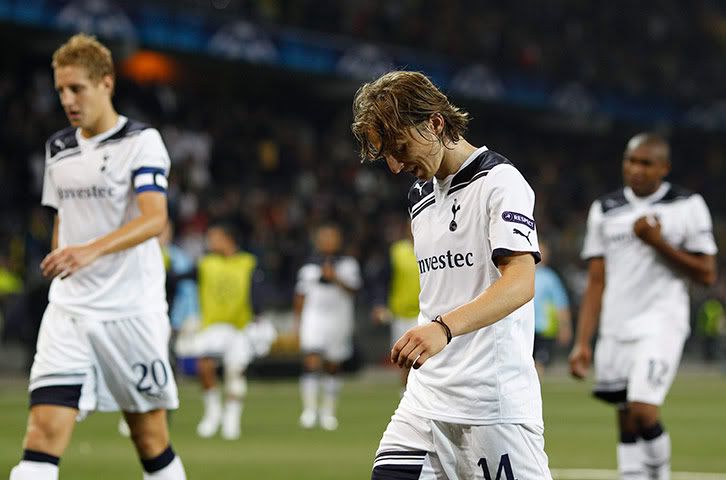 COYFS