Fellow (non) blogger Jim and I have started to play NFL Showdown 2002. Jim has the full set while I'm missing most of the foils from the 2002 set. However, neither of us have ever played the game. We both always played MLB Showdown. I have a few extra booster boxes of the 2002 game, so James and I opened one and drafted teams. 18 packs, each pack we'd pick a player until the pack was over...repeat the process 18 times.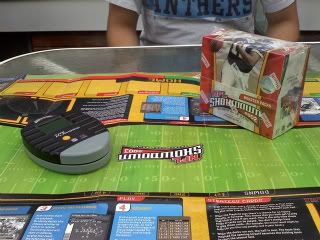 After we drafted the teams, we created the teams using the 5,500 point rule. Honestly, I don't have a rule book so I have no idea how many points and how many players you need to play the game. We both had pretty average teams with no more than 3 foils per team.
Within the first half it started to drizzle so we quit playing for the day. We picked up where we left off the next day...this time moved into the garage so we couldn't get rained on. I ended up winning the first game thanks to Steve McNair's QB skills....rest in peace dogg.
We both are pretty big nerds and enjoyed drafting teams more than playing the game...so we drafted again out of the remaining 18 packs. This time I had Brett Favre as my QB because for some god-awful reason Elvis Grbac is 700+ points. Our second game was eventually called due to a rain storm. This time the power went out so we were stuck in a garage with no power for 30 minutes. Play resumed and thanks to Super human John Parrella and his 4 sacks, I picked up another victory 10-7.
My only defensive lapse was thanks to 20 pointer Kwame Lassiter. He was called on to scan on a play route and ended up nearly breaking the scanner. Thanks Kwame.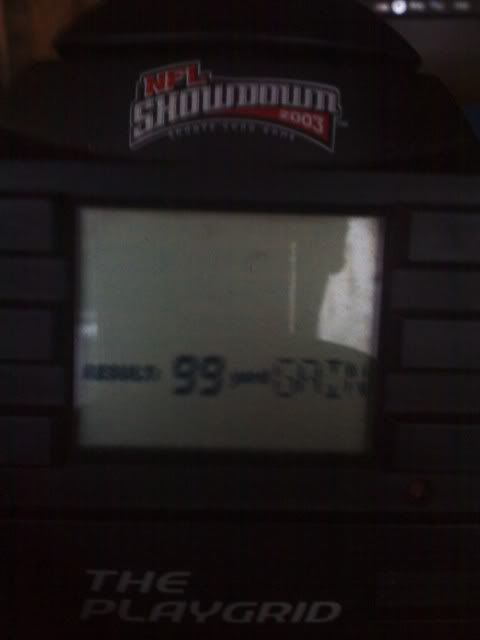 And yeah, that's a 99 yard gain.
If you like football, you'd probably enjoy playing this game. Just make sure you use the play scanner from the 2003 year...it's the only one that works. If you really enjoyed the 2001 NFL Season, this game will be the best purchase you ever spent money on.