I always have been around sports items. My dad got me hooked when I was younger. Throughout my life I've collected sports memorabilia. And not just cards or autographed items....I'm talking goofy stuff. For instance, at the 2001 National, I bought 6 boxes of MLB Showdown and 2 Beanie Baby Bears of....Preston Wilson and Carlos Beltran. I wasted money on that. I don't even have a rationale for the purchase of those two bears. In all honesty, I don't think there is a logical explanation.
However, one of my favorite things growing up were NBA Champion Jerseys. All the kids in elementary had to have a jersey to be cool. My first one was Michael Jordan. The second Champion jersey I bought was Jason Kidd (Mavs). Third and final for a long time was reversible Penny Hardaway (Magic). Those would be the three jerseys I had throughout my childhood.
During high school I'd go to thrift stores to buy clothes and come across the Jerseys. I loved going through them and laughing at some of the names. Usually it was a Lakers Nick Van Exel. I'll always kick myself for not buying the USA Dream Team Mark Price though. I ended up adding Jalen Rose (Nuggets), Damon Stoudamire (Raptors), and most recently a Sand Knit T-Wolves of Tyrone Corbin.
My ultimate goal would be to have the largest NBA Champion Jersey collection. However, three of my most prized possessions would be to own Drazen Petrovic, Toni Kukoc, and Dino Radja. Ebay lists Kukoc quite a bit. I've never seen a Radja listed. Petrovic has tons of knockoffs....until this hit today: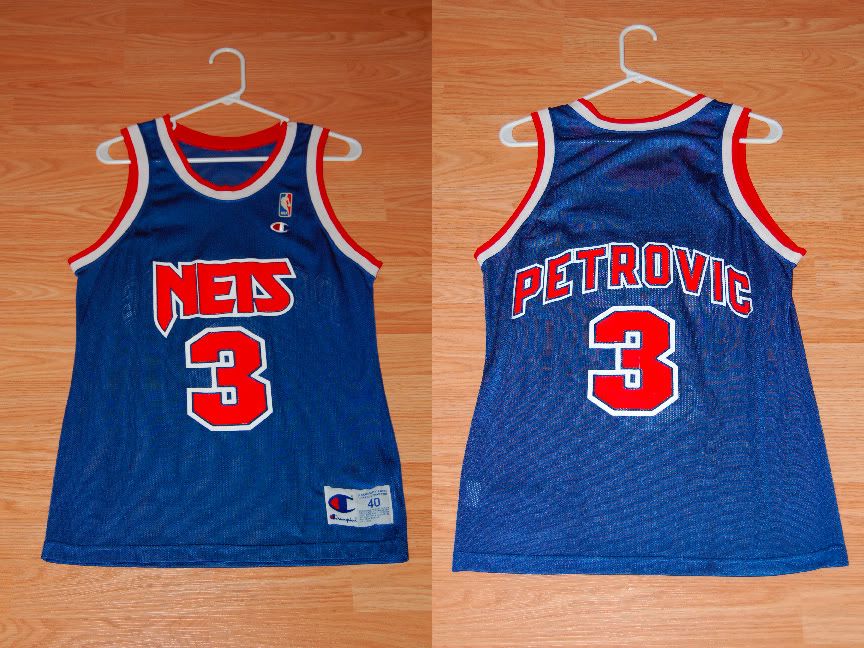 BIN: $99.99.
That's a lot of money. My favorite player and the jersey is my size. And to top all that off, the guy who listed it lives 20 minutes away from me. At the bottom of the auction he lists his photobucket account. This guy has done what I want to ultimately do.
And holy shit, it's awesome.
Check it out for sure.
I contacted him about how he got all the jerseys and where he found them at. I always ask at thrift stores if they have jerseys and one man told me "I get these requests in daily from people". I was pretty shocked to hear that I have competition around the Cleveland area...and I think I just found my main competitor.
I tip my hat to this guy.