The idea for this blog series came from the one Twitter, ShitMyDadSays. Basically, this one guy tweets everything his dad says, which usually is some goofy thing about sticking to his old set of ways. It's real funny to read. Also, NBC (or ABC, I forget) picked up his Twitter and are making a show about it. Hey TV Networks, read this blog and then shoot me an email about my impending TV Contract. Alright, here goes.

My dad has collected sporting items since he was little. Being born in the mid 1950's he was gifted with the chance of collecting cards in the golden era of baseball. His friends and himself would go to a small card shop and numerous packs of cards, usually baseball and football. His group of collecting friends would all trade cards to try and finish sets...but usually it ended up them trading all the hated Yankees away for the beloved Cleveland Indians.

The majority of these cards are all in a closet, in my room. I have never used this closet, it's stacked with sports cards and other miscellaneous items from bottom to top.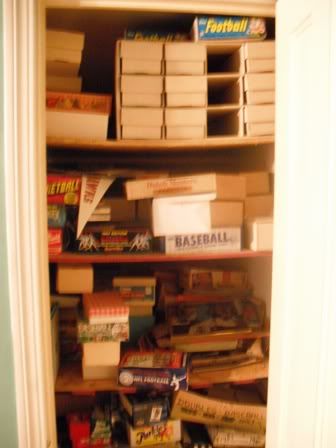 Here is the closet in all it's glory. There is minimal organization overall. The top shelf are a few boxes and a wax rack holder. Nothing special really. Unless you are into 1994 Classic Sports. Or Space Jam cards and Jurassic Park cards. My dad never collected those, they were mine.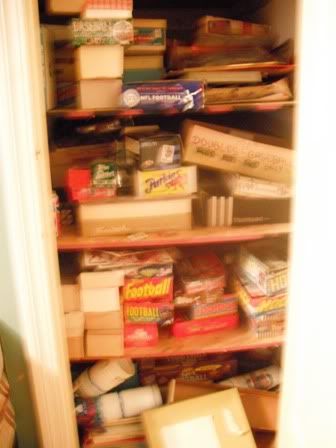 This is the middle or heart of the closet. The majority of cards are here. Anything from 1950's Topps Baseball to 1980's Unopened Hockey Boxes. In the back of the highest row pictured, there's about 16 wax sleeves of cards.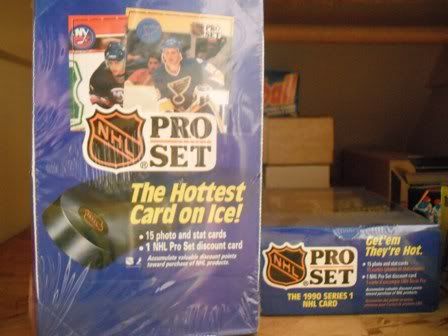 Tired of hockey wax? How about some football:



Here's a little mix of 1980's football and baseball:




What's the best part of these wax boxes? Probably this ad: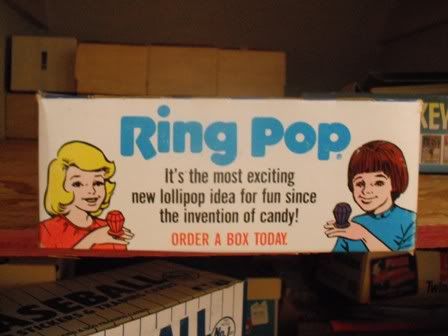 Ring Pop. The newest and coolest candy on the market. Why not have one or two when you are opening packs featuring these legends: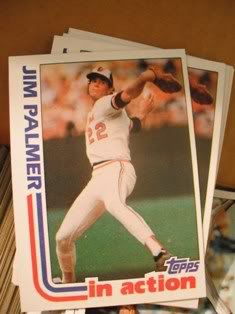 For those of you who have seen or played the best game of all time, MLB Showdown, I bet that Jim Palmer photo looks pretty familiar.

Here's a random Cleveland Indians legend: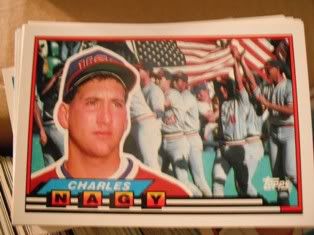 The man, the myth, the Incaviglia: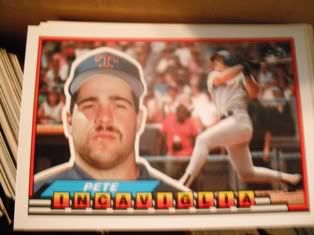 Or how about the best bearded man in baseball, Bob Sykes. This is in contention for my favorite card of the year.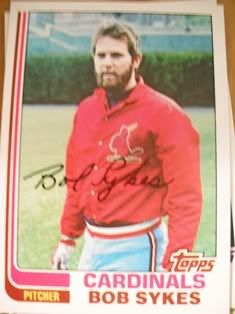 The combination of the beard, trucker hat, tight coat, and tighter pants makes this card fantastic.

Or if you are into cellophane wrapped 1980's cards, this one is for you: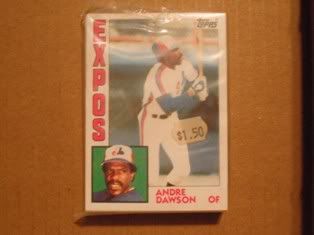 There will be plenty more from Stuff My Dad Collects, be sure to check back later.