After reading about the Bowman craze, seeing Strasburg prices on Ebay (Base included), and not having bought a single sports card since July of last year (Toni Kukoc!) I decided I'd break the streak.
I intended on buying maybe 2-3 blasters from Target. Target does not carry any 2010 cards except for Opening Day. I will never purchase anything called Opening Day again after buying a box of the stuff in 2001. I leave and now it's on to Wal-Mart.
Apparently Wal-Mart moved their card section because it was now filled with batteries. About to leave I spot the new card area and find zero blasters. They instead have a huge rack of retail packs and two Jumbo packs. I decide on purchasing the two Jumbos and a few handfuls of Retail.
Back into the fire:
After opening plenty of packs and not hitting the Strasburg cash cow, I noticed a few things. First, I pulled a bunch of Indians, including 3 Sizemores.
Grady, 1st Card Bo Greenwell, and Masterson who pitched a hell of a game tonight against Boston.
These might be my favorite cards out of this whole Bowman set. Growing up and collecting the hell out of these cards brings back some good memories. For me, this is a Top 5 design along with the early 90's Donruss Green and Blue backgrounds and the 1995 Collector's Choice sets. Awesome that I got a Sizemore out of the sub-set.
And then there is this card. Bowman Expectations. I am not entirely sure if the guys they picked for the front of the card were the right choice. Given that the Tribe isn't the best of teams, I suppose Sizemore is the right choice. But the back? Jordan Brown? He did good last year, but if I could pick anyone, it'd be Michael Brantley. Ironically, I love the kind of player that Jordan Brown will eventually pan out to be, but in a Bowman Expectations cards, I just think a 26 year old wouldn't be the best route..especially when the guy he is being compared to is about 2 years older than him.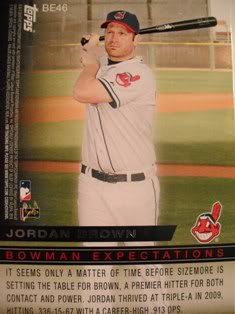 Another Bowman Expectation I love is the Royals version. Alex Gordon is used. Yikes. I know the guy on the back, Moustakas is supposed to be pretty good, but man in comparison to Gordon, goodluck. Unless Bowman means that his expectation is that he'll be super hyped, have a card released in a set that it shouldn't and then command top dollar in retail packs at Wal-Mart. If that's the case, 2011 will be fun.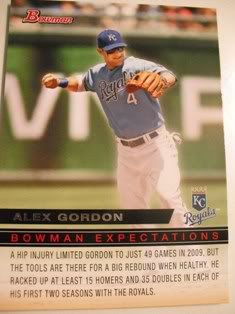 The refractors are neat, but nothing I haven't seen before. The Purple refractors are the best looking in my opinion. Here are the guys I got from each:
Serafin reminds me of Dennis Sarfate. And that name alone brings back horrible memories of 2007...thank you $20 SPX pack with the Sarfate auto. Gross.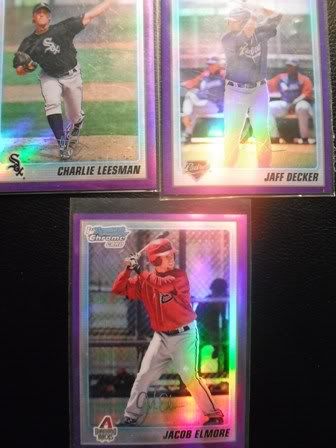 Also pulled was one blue parallel. The blue isn't that vibrant and makes the card seem cheap.
These all were pulled within the first Jumbo's and about 9 retail packs. So out of Harper, Strasburg, Chapman, and Heyward, I was 0-4. I did like what I was pulling so I wasn't too upset, but let's not kid anyone, I wanted a Strasburg or Harper.
Instead of pulling any of those 4, I got something better. AUTOGRAPHED ERIC BERGER.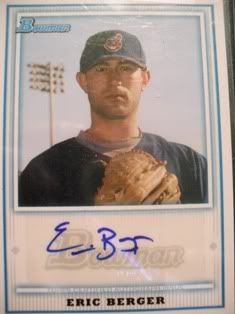 Out of all my years of collecting, I have never pulled a Cleveland Indians autographed card in any pack. Eric Berger, congrats on taking that virginity. Add this to the great memories of Sports cards for me. Meh.
Finally, I pulled one of the big 4.
AROLDIS: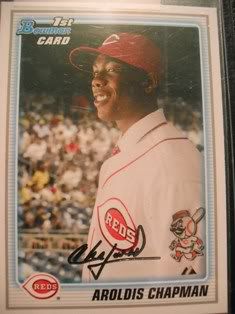 And then......
STRASBURG: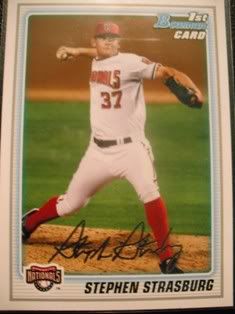 Really excited to have pulled this. However, I've mulled over whether or not I want to sell this one or keep it. I've also debated on going back to Wal-Mart and picking up some more Bowman later this week. Also thought about waiting for his start Sunday vs the Tribe to see if he dominates again and the value will go up a bit more.
What would you do?