Like I said I would, here's a few of my premium Grady cards:
2004 Bowman Base Set Grady Sizemore Card Number 161 Red Inked Autograph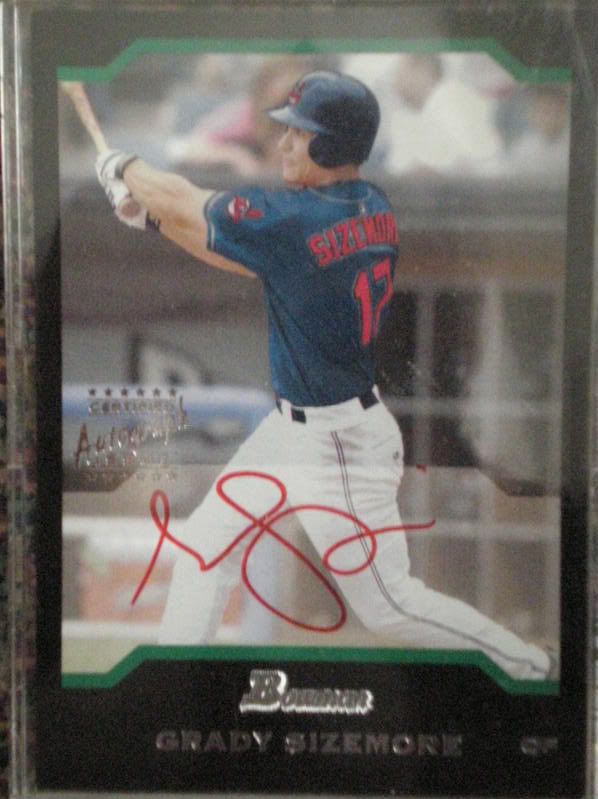 I got this off Ebay a few years back. I believe I paid about $25 for it. I didn't know that this was a variant autograph, but after I won the item, I saw plenty of the Blue Inked versions popping up. Supposedly there's only 25 sets out there for all the red inked autographs, so I guess I got 1 of 25.
Since that time I've only seen one on Ebay (or anywhere) and that was last July and the card went for ~$40.
2004 USA Baseball Grady Sizemore SIZE Blue Ink Auto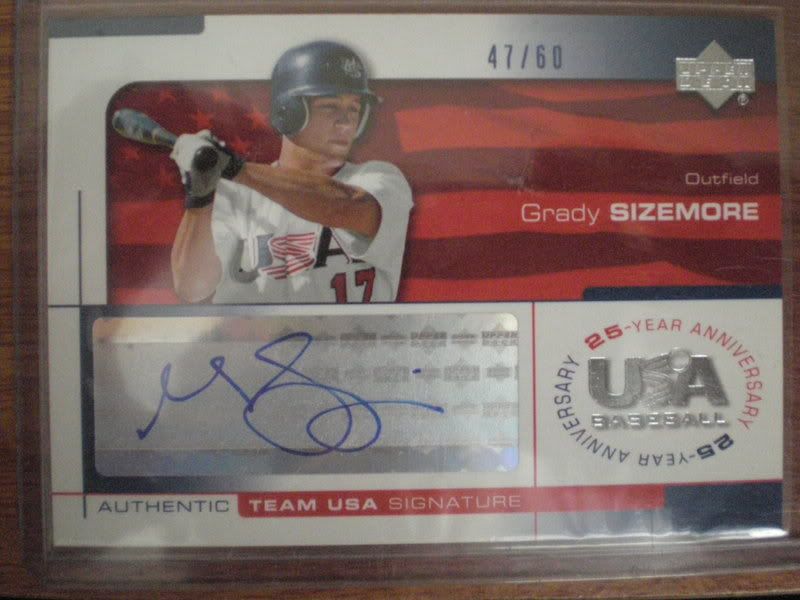 This card was purchased around the same time as the red ink, however I do not remember how much this cost. Since then, I've never seen the blue inked auto being sold anywhere. Grady was kind of lazy signing this one, but being a blue ink and out of /60, I'll take it. Sharp card too.
2004 Topps Pristine Personal Endorsements Blue Ink Auto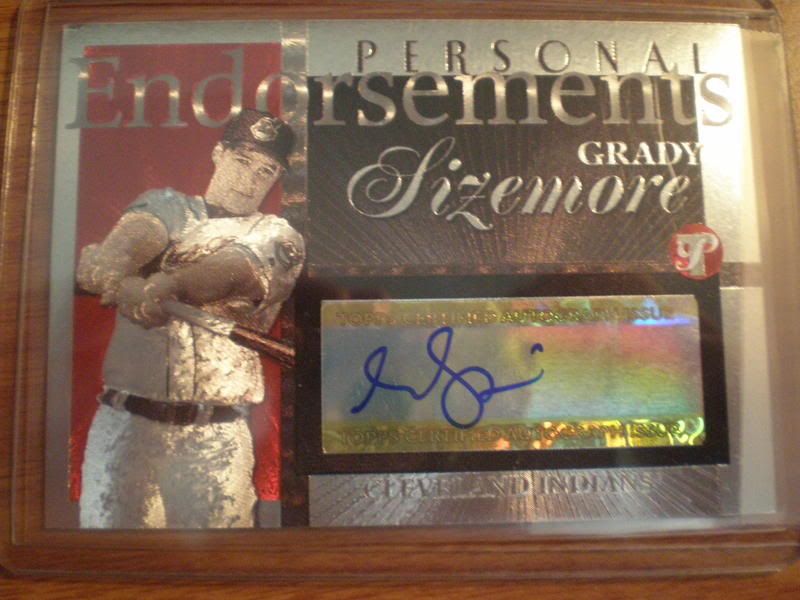 I really don't know why I posted this card. Most likely since it was an blue autograph, and well blue is my favorite color. I never liked the layout of this card, way too busy with the metallic look. Granted that's sort of hypocritical because I loved Fleer Metal when I was younger, but at least for the Metal sets the backgrounds of the cards had awesome shit on it like dolphins, space ships, or fireballs. Although the total chrome Metal inserts annoyed me.
2006 UD Ultimate Collection 4 Swatch 15/25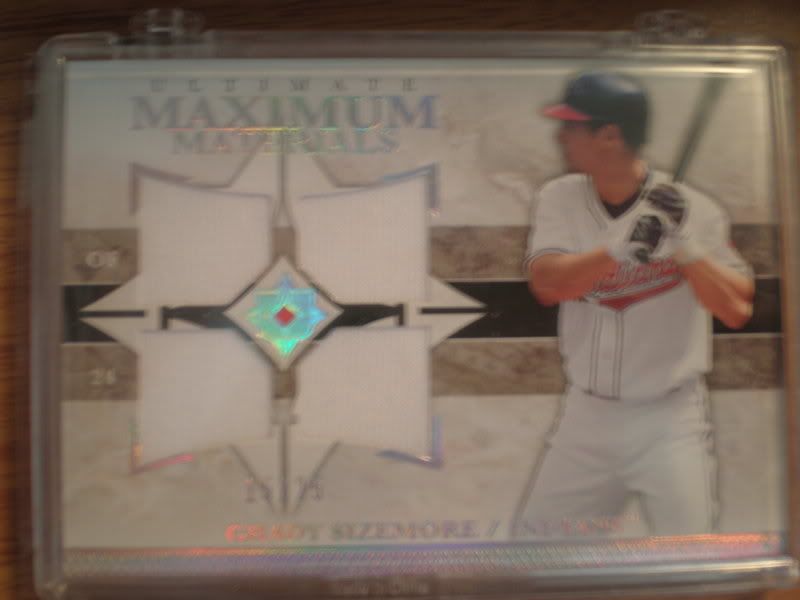 I bought this last year for ~$25. Serial numbered to /25 and a 4 jersey swatch, with all the swatches being in the home white Tribe jersey is a nice touch, to what I think is a sharp looking card to begin with.
Haven't seen one being sold on Ebay lately though.
2007 SPx Winning Trios Tri-Jersey Swatch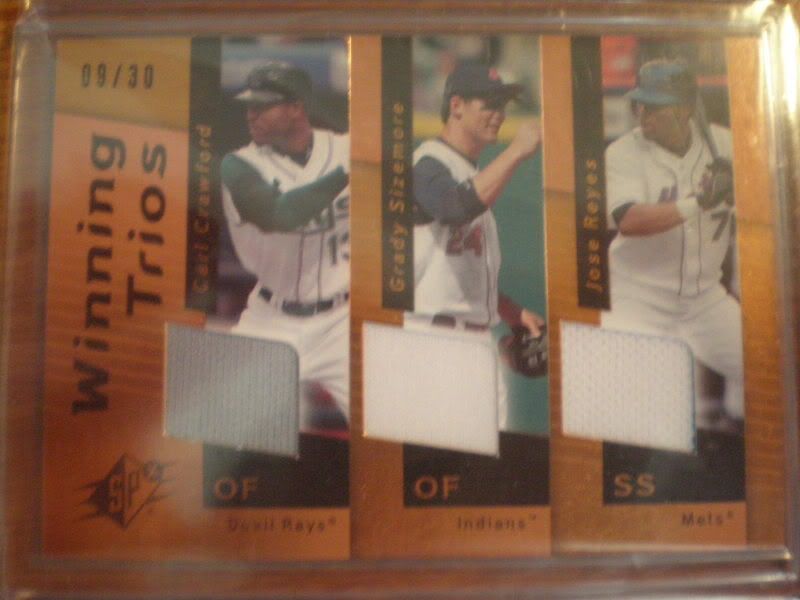 This was a $20 purchase last year from a card store in Canton. I forget the name of the shop, but the guy was playing Gears of War on Xbox360 and getting rocked. When I was looking through some of his cabinets I saw plenty of Tribe players and then on top of the counter was the Sizemore swatch card.
I figured since it's serial numbered to 30, SPx had just come out, and Beckett doesn't list cards with that low of a serial number, I was at the mercy of the owner to make up his own price (I was expecting somewhere between $50 and $100).
Instead he said $20, and I bought it. He was more into the fact that Jose Reyes was on the card rather than hometown superstar Sizemore which I thought was odd. But whatever.
2005 Etopps Cleveland National Show 2007 1/1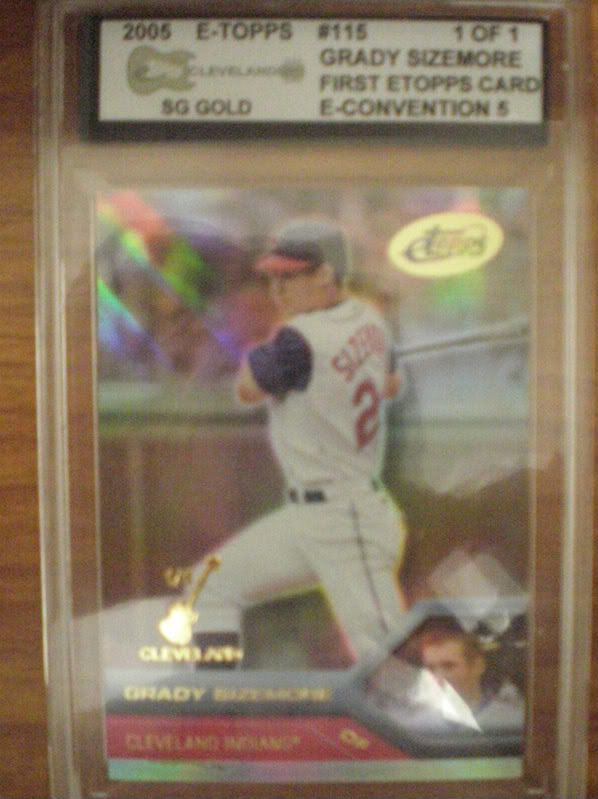 This card came in packs of 1-3 (I think) and were $15 bucks each at the National last year. I had just purchased both the 2005 and 2006 versions of Grady's Etopps for $12 and $15 respectively and when I heard that there were 1/1's in the packs, I was sort of pissed.
My co-blogger, Jim, purchased two packs of these cards and pulled a Piazza 1/1 along with Ichiro 1/1.
I scoured Ebay in hopes that I'd find the Grady 1/1 because everyone was dumping the 2007 Allen & Ginter Promos on there, so who knows what I'd find. Not more than a week later the 05 Sizemore 1/1 showed up, and I purchased it, don't remember how much though. I'm not sure if I can really classify this as a true 1/1 just because of the Cleveland National Stamp, but if Topps says it's a 1/1, well then it's a 1/1 I suppose.
That's all for now.