Decided to take a trip down to Akron to see two stores I'd never been too yet. The first one featured Magic: The Gathering with thousands upon thousands of Magic cards laying out. His sports section was a few glass cases and one row of basketball, baseball, and football cards.
The owner really didn't have anything, however he did have the new Upper Deck Series which everyone has been raving about. So I bought a jumbo pack.
UD Series 2:
Denard Span, Minnesota Twins (Rookie)
Dmitri Young
Season Highlights CC Sabathia
Season Highlights Jose Reyes
Brian Bocock San Francisco Giants (Rookie)
Orlando Cabrera
Adam Eaton
Josh Beckett
Kenny Rogers
USA Baseball Insert Brett Hunter
UD Anniversary Ad (More about this later)
Bill Hall
Shane Costa
Jeremy Hermida
Duaner Sanchez
Yuniesky Betancourt
Rocco Baldelli
Ryan Church
Brad Lidge
Miguel Olivo
Kazuo Anal Fissures Matsui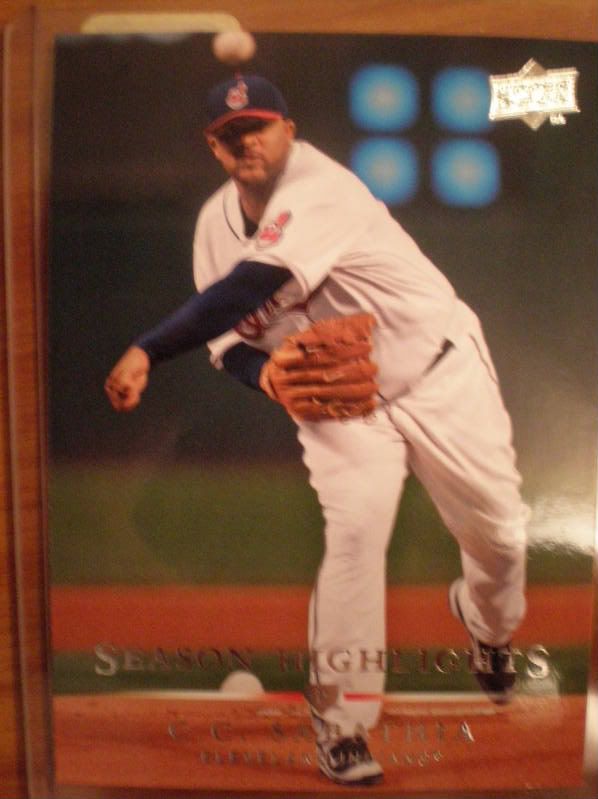 Not a bad pack some great pictures (Bill Hall) and some bad ones (Baldelli). I have a Ryan Church card which I'm excited about because I used to be all about him when he was back in Akron. Not to mention the fact I got current Indian, CC Sabathia. I'll probably keep buying packs of this here and there, but I don't think that I will try collect any of it since I didn't pick up any of Series 1.
Next was the second card store, which turned out to be a house where a man just sold vintage items. He had a few of the premium '60's-70's cards, but outside of that mostly just Starting Lineups. He did however have the coveted '89 Griffey rookie, and was asking $40. If I go back, I'm going to be buying the program from the 1948 World Series, he was asking $50 for that.
After being thoroughly let down on my first two stops, I decided that a stop was in order to my usual card store, AllPro in Cuyahoga Falls (or is it Stow?).
I walked in and went straight for the Indians card section to see if any new Grady cards were in; however I couldn't even find the Tribe box. The owner has a big box of relic and auto'd stuff that all costs $5 for a single card. I wanted to see if I could start Drazen Petrovic collection, but nothing in there other than a Sizemore jersey which I didn't have yet.
2006 UD Artifacts AL Artifacts Blue Jersey /325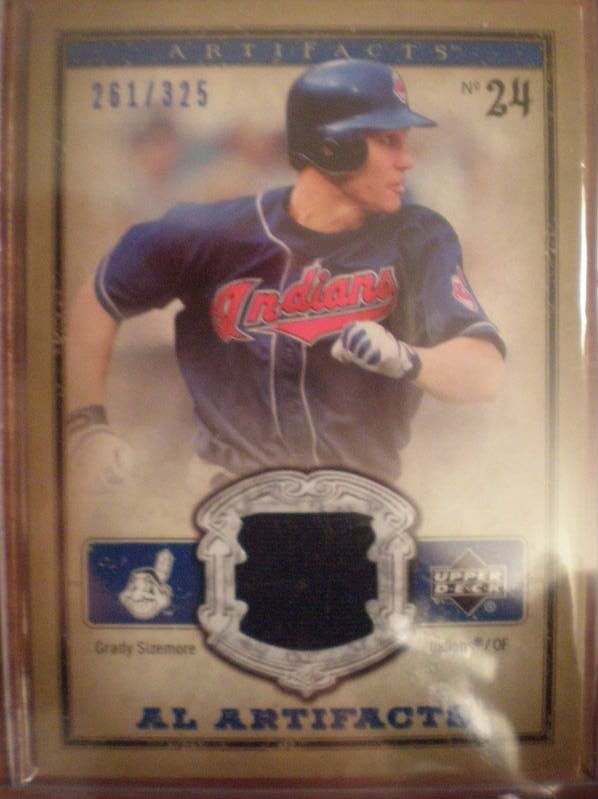 After that I bought a Mini Box of 2008 Topps Finest. I don't know why, but last night I had a dream that I bought Finest and received the Jay Bruce Redemption Card (Redemption Card #2). I attribute that dream to reading a blog post on the set, and the Beckett hype about Bruce. Now, onto the packs:
Pack One:
Mark Teixeira
Grady Sizemore (!!!!!!)
Justin Verlander Green Refractor (042/199)
Carlos Pena
Bronson Sardinha
Pack Two:
Prince Fielder
Erik Bedard
Jonathan Meloan Rookie Auto White(??) Refractor (Blue Ink Auto 046/499) LA Dodgers
Finest Moments David Ortiz
Chris Carpenter
Pack Three:
John Smoltz
Carlos Lee
Curtis Granderson
Topps Team Favorites Eric Chavez
Donny Lucy Chicago White Sox (Rookie)
Pack Four:
Ryan Howard
Justin Upton
Carl Crawford Blue Refractor 053/299
Redemption Card NUMBER TWO*******
Josh Newman Colorado Rockies (Rookie)
Dan Giese New York Yankees (Rookie)
Pack Five:
Tim Lincecum
Derrek Lee
Finest Moments Matt Holliday Black Refractor
Finest Moments Trevor Hoffman
Garrett Atkins
Pack Six:
Joba Chamberlain
Curt Schilling (he still plays?)
Finest Moments Mark Reynolds (who?) Blue Refractor (146/299)
Topps Team Favorites Alfonso Soriano
Barry Zito
Mini Box breakdown:
Percent of Set Complete: 11% (18 out of 166)
Doubles: 0
Rookie Redemption (1:3): Redemption #2 (Jay Bruce)
Blue Refractor (1:2): Mark Reynolds, Carl Crawford
Green Refractor (1:2): Justin Verlander
Gold Refractor (1:7): Carlos Pena, Josh Newman (Rookie)
Topps Team Favorites (1:?): Alfonso Soriano, Eric Chavez
Finest Moments (1:?): Trevor Hoffman, David Ortiz
Finest Moments Refractor (1:4): Matt Holliday
Yes, I'm not lying when I said I received Redemption Card Number Two. Yes I really did have a dream about getting it. I think it's time to start dreaming about winning the Lottery.
As for the set itself, it's nice. I found that a few of the cards that I looked over turned out to be refractors, and I honestly have no clue how to tell the odds of each refractor. So some of those listed above aren't totally right.
The biggest pull by far is the Redemption card, and then second I guess would be the auto. Granted Meloan isn't pithing well in AAA; with 50 IP under his belt so far he's sitting on a 4.14 ERA with a 1.58 WHIP (47K/27BB). We'll see if he ends up with my "what could have been" autograph club. So far that is occupied by Dennis Sarfate (07 SPx) and Miguel Montero (07 Moments and Milestones).
Well this is by far the longest post, but I had a good haul, so whatever.
Overall, this is a really nice set. And a great way to start it. The premier Redemption card (not named Fukudome) and a Grady card to boot. I'll probably buy a few more of these before the season is over, but I'm most definitely going to purchase a box of UD Legendary Cuts first.