Over a year ago I was all about Topps Finest. The first box I pulled contained the coveted Jay Bruce Redemption. Over the course of time I pulled plenty of other nice stuff. A lot of the autographs were of minor league dudes. So since a year has passed, I'm going to see what they are doing.
Sam Fuld.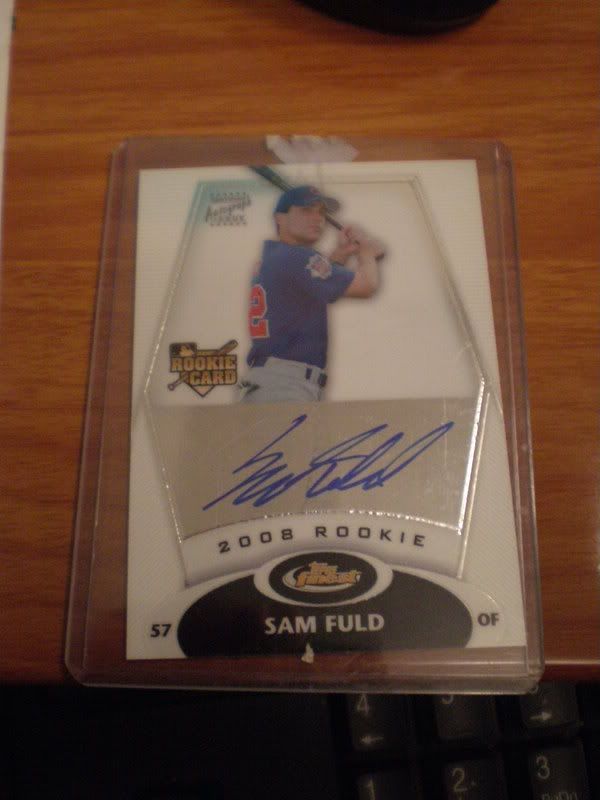 Drafted by the Cubbies.
Last year at this time: Playing in AAA hitting .222.310/.317/.627.
Currently: Still at AAA (Iowa) and hitting .286/.358/.399/.758 in 283 AB's. 16 XBH with 0 homers. For some reason I love guys who do not hit homers. He's walked 10 more times than he's K'd (32/22 split) and has 20 SB's only being caught 5 times.
Outlook:
He's currently on the Cubbies 40-Man, so a September call-up is most likely in the future. Although he'll really have to impress Lou come September due to him being 28. The rest of Iowa's OF is really awesome. Brad Snyder, So Taguchi, Jason Dubois, and a guy named John-Ford Griffin. Not really sure where Fuld ranks in terms of prospects for the Cubs, but I'd imagine that it's not very high and he'd end up being a bench guy.
Jonathan Meloan.
Last Year: Meloan was starting for the Dodgers AAA club. His numbers were 50 IP with a 4.14 ERA and a 1.58 WHIP (47K/27BB). He was later dealt to Cleveland in the Casey Blake deal.
Currently: I haven't even looked at his stats in Columbus until right now. I was going to write about how his numbers were much closer to his 2007 numbers (2.03 ERA, 91K's in 66.2 IP), but no. I wish he was putting up something to that stat line. Instead he has a bulky 5.65 ERA in 43 IP. In this time he's gotten 35 K's. Glad to know that the Tribe isn't the only team with bullpen woes. Our AAA club is bad too. Wonderful.
Outlook:
Meloan will probably make it up here sooner or later. I'd assume if things keep going the way they are going, Meloan will get a chance to shine at least by September, especially since the Indians are trying to do anything necessary to keep our heads above water. Who knows maybe Meloan will baffle hitters up here with the Tribe and we'll have a solid cog in the bullpen to round out the rest of this frustrating year.