Yesterday was awesome in terms of purchasing shirts. Again, fellow non blogger James and myself went to some thrift stores to see what we could find. First store, had two Brett Favre jerseys, both of which were with the Packers. I don't collect NFL jerseys, money saved. A few shirts down was an unreal find.
89 cents, 94 cents paid (Tax included). I've never seen an authentic Champion jersey in my life. In all honesty, I didn't know they existed prior to a few weeks ago due to an Ebay search. Not only was the shirt dirt cheap, it is in great condition, and to make it worth more, the NBA logo is gold, signifying the NBA @ 50 Anniversary. Dayyyyuummmmmmmm!!!!
Next up was to meet a guy off Craigslist who was selling Champion jerseys for $10 a piece. Seeing as how the majority of the jerseys sell for around $20 on Ebay, I was going to purchase at least 1.
Instead, I purchased three.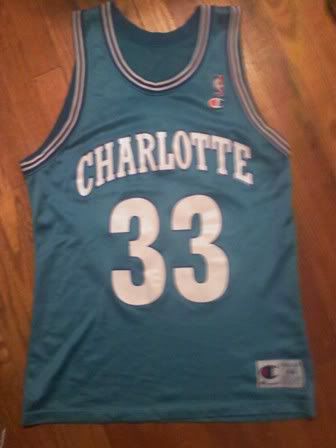 I can now finally fit in with all my friends back in 1992-1994. 7-9 year old me is very excited. Good condition, great color, dead team. I'd rather have 'Zo than LJ. Now only need to get a Vancouver jersey to complete the dead team tri-fecta.
Next up had to be Mighty Mouse. I've had this exact jersey for about 3 years now, just in the larger size. Ever since that purchase, I've told myself that I needed to find the same shirt in my size. Excited to have this in my collection, but the jersey itself isn't in the best condition, no big deal. Sorry for the dark photo quality, don't really know what happened.
Finally, I purchased this jersey:
Yep, Champion made Jim Jackson jerseys. I always liked the Dallas uni's in this color scheme. Usually non star players shirts sell for a decent amount on Ebay, so I picked this one up hoping to flip it. The jersey itself is a size 48, and doesn't fit me, so hopefully I can flip it, or trade it for a jersey in my size.
I'm still patiently waiting to find that Drazen Petrovic Nets jersey in a 44 size. If anyone reads these posts and has jerseys to trade, shoot me a message or post a comment.
Eventually I'll have all the 1990's NBA in my closet.