Yesterday I (along with the other blogger on here) went to two card shops. The first one, Medina Sports cards and Collectibles is located in downtown Medina, Ohio.
I've seen this shop listed on Ebay, Beckett Marketplace, and Beckett.com so I figured they'd be a premier store. Not to knock the owner, who was a very very nice man, but the store really didn't match up to the way I envisioned it. I figured it'd be a newer store with lots of wax to sell and plenty of cards that are well out of my price range.
Well, I guess I was right about the second idea. The store did have plenty of cards for sale (most notably a Cliff Bartosh signed card for $15.99!!). The place had many cool memorabilia items decorated around the interior, however most of it was not for sale. I bought a few packs of 07-08 UD Series 2 Hockey and a pack of the new 2008 Bowman Baseball.
After we left, both of us really wanted to purchase some fun stuff, so we headed back to our usual store, AllPro, in Stow.
I bought a Mini of Finest while Jim bought a box of 2008 SPx baseball.
Here's my box pack for pack:
Pack 1:
John Lackey
Chris Young
Finest Moments Ryan Zimmerman Blue Ink Auto
Luke Hochevar Refractor
Luke Hochevar (Royals) Rookie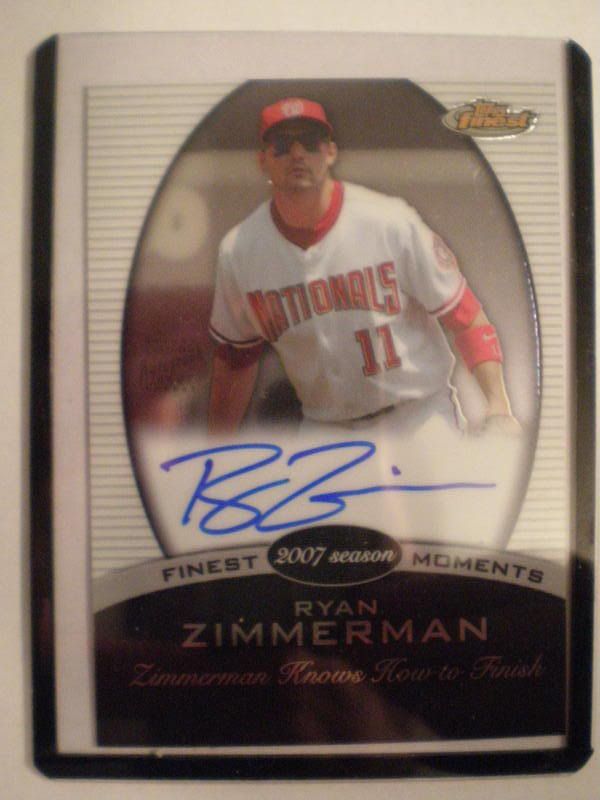 Not a bad way to start the second box I've purchased this year. Zimmerman's auto is a nice one too. Pulling Luke back to back was a bit odd though, but I like the Royals, so I'm not complaining.
Pack 2:
Dontrelle Willis
Roy Halladay
Lance Berkman Black Refractor 56/99
Topps Team Favorites Melky Cabrera
Joe Blanton
Not a bad pack. The Berkman refractor is my first Black Refractor I've pulled, and it's nice that it's Berkman, the way he's been playing so far.
Pack 3:
Derek Jeter
Chien-Ming Wang
Finest Moments Justin Verlander
Finest Moments Pedro Martinez
Radhames Liz Rookie (Orioles)
Bleh. Too many New York cards. This pack should be sent to ESPN, they'd love it.
Pack 4:
Magglio Ordonez
Cole Hamels
Ryan Zimmerman Blue Refractor 168/299
Hideki Matsui
Adam Dunn
This box should have been sold to a Zimmerman collector. I'm not going to complain though, Zimmerman is a good player to have.
Pack 5:
Ivan Rodriguez
Kenji Johjima
Topps Team Favorites Melky Cabrera Refractor
Topps Team Favorites Bobby Crosby
Jeff Clement Rookie (Mariners)
Already pulled the regular Melky, glad to see it was a refractor rather than a double.
Pack 6:
Dan Uggla
CC Sabathia
Finest Moments CC Sabathia Black Refractor 04/99
Finest Moments Frank Thomas
Josh Newman Rookie (Rockies)
Awesome. As a Cleveland fan, I'll certainly take this pack. On top of two CC's the Finest Moments card is a black refractor.
Mini Box breakdown:
Percent of Set Complete: 22% (36 out of 166)
Doubles: 0
Refractor: Hideki Matsui, Luke Hochevar
Blue Refractor (1:2): Ryan Zimmerman
Black Refractor: Lance Berkman
Topps Team Favorites (1:?): Melky Cabrera, Bobby Crosby
Topps Team Favorites Refractor: Melky Cabrera
Finest Moments (1:?): Pedro Martinez, Frank Thomas
Finest Moments Refractor (1:4): Justin Verlander
Finest Moments Black Refractor: CC Sabathia
Finest Moments Autograph: Ryan Zimmerman