I bought a Master Box of Topps Finest two days ago. I haven't opened all of the boxes, so I'm going to crack this one right now considering there really isn't anything else to do at 10:16 in the morning. Here we go!
Pack One:
Albert Pujols
Erick Threets Rookie (Giants)
Sam Fuld Rookie Blue Ink Auto (Cubbies!)
Finest Moments Fausto Carmona
Alex Rodriguez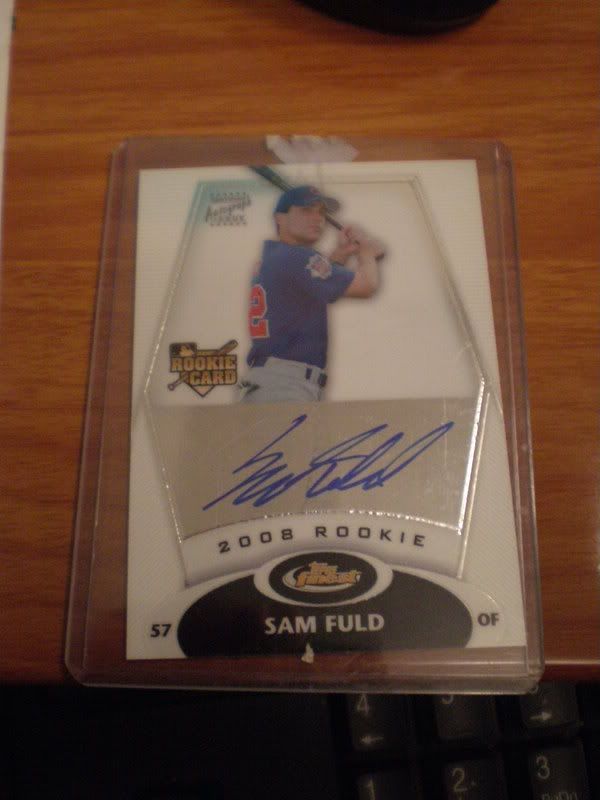 Not a bad pack. Excited about the Carmona card. Sam's card says
Fuld's hot start for teh Double-A Tennessee of the Southern League included a 6-for-9 efford on April 23-24 that raised his batting average to .500. Both performances for the Smokies came against the Mobile BayBears.
Well that's neat. Currently Sam sits in Triple A Iowa hitting .222/.310/.317/.627. Granted he's only had 63 AB's, but in those 63 AB's, he's managed only 4 extra base hits. At the age of 26, Sam has most likely hit his ceiling in baseball.
Pack Two:
Luke Hochevar Rookie (Royals)
Josh Newman Rookie (Rockies)
Travis Hafner Blue Refractor /299
Topps Team Favorites Melky Cabrera
Dmitri Young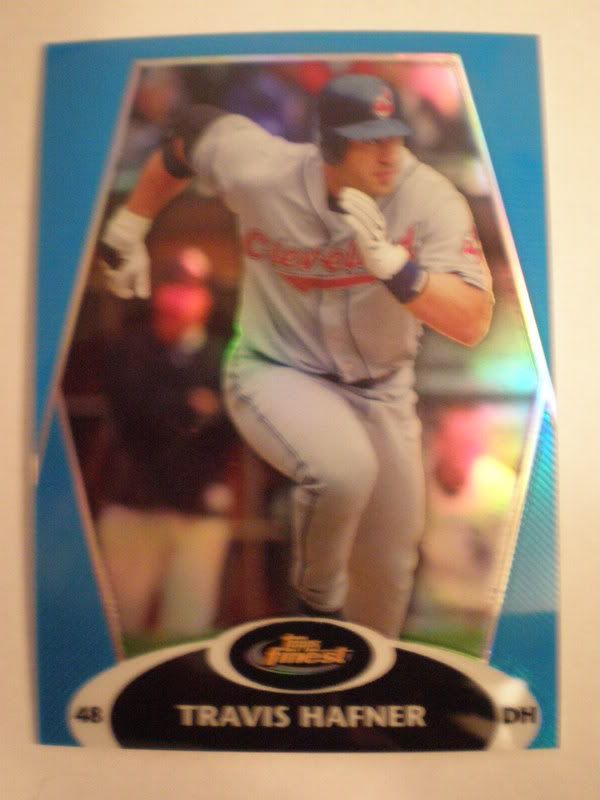 This pack is mostly all doubles. The only saving grace was the Hafner refractor. And the way he's been playing (or not playing), I'm not entirely sure if his card could be considered a saving grace.
Pack Three:
Radhames Liz Rookie (Orioles)
Joe Blanton
Finest Moments Brian Bannister
Finest Moments Brandon Webb
Jim Edmonds
Brian Bannister! I don't know why but I really do like the Royals. And getting a Bannister card is really awesome. Hopefully I get a Gordon soon.
Pack Four:
Jeff Clement Rookie (Mariners)
Joey Votto Rookie (Reds)
Johan Santana Green Refractor /199
Johan Santana Refractor
Freddy Sanchez
Two Rookies in one pack, granted I have Clement already, but Votto was a nice pull. Two Johan cards in one pack, and neither are the base set card, odd. And to top it off, I got a Bucco! Yeah, I like Pittsburgh too; only the Pirates and Penguins though, screw the other two teams they have.
Pack Five:
Bryan Bullington Rookie (Pirates)
Rob Johnson Rookie (Mariners)
Finest Moments Ichiro Green Refractor /199
Dual Topps Team Favorites Eric Chavez/Bobby Crosby
Johan Santana
Well, I got my Johan base card. Pulled my first dual team favorites and they are sharp looking cards. I really like the way the Finest Moments looks with a green background too. Plus another Pirate is always a plus, even if he is damaged goods.
Pack Six:
Chris Carpenter
Donny Lucy Rookie (White Sox)
Adam Dunn
Todd Helton Refractor
Johnny Damon
Pretty bland pack, but the other five were solid, so I won't complain.
Mini Box breakdown:
Percent of Set Complete: 28% (47 out of 166)
Doubles: 9 Adam Dunn, Chris Carpenter, Joe Blanton, Donny Lucy, Luke Hochevar, Jeff Clement, Radhames Liz, Josh Newman, TTF Melky Cabrera
Refractor:2, Todd Helton, Johan Santana
Blue Refractor /299: Travis Hafner
Green Refractor /199: Johan Santana
Topps Team Favorites: Melky Cabrera
Topps Team Favorites Dual: Crosby/Chavez
Finest Moments: 2 Fausto Carmona, Brandon Webb
Finest Moments Refractor: Brian Bannister
Finest Moments Green Refractor: Ichiro