Hockey used to be my favorite sport next to baseball. Growing up, our cable company used to receive a few Pittsburgh channels, and my dad was a fanatic of hockey. Since Cleveland didn't have a professional team, we followed our closest team, the Pittsburgh Penguins. I was a huge fan of Mario, Jagr, Ronnie Francis, Paul Coffey and Tom Barrasso. This was during the early 90's when the Pens were the top of the food chain in the NHL. Once our cable company stopped carrying the Pittsburgh stations, my only chance to watch the NHL was on ESPN.
This is where my love affair with the Detroit Red Wings started. Yes, I was a band-wagoner. My favorite player was Sergei Federov. The Russian 5 was what I thought the best thing ever to happen to hockey. Those classic matches between the Wings and the Avalanche on ESPN was like Christmas to me.
And to help feed my hockey addiction, there was a card store at the end of my street. Every Saturday I'd go bowling in the morning with my friends, and then we'd all go two doors down and splurge on cards. Our parents would give us about $10 or so and we'd buy any cards we thought were awesome. Most of it was Collector's Choice. One day, I'll post some of my favorite cards from those years.
The other day when I went to Medina, I didn't see anything I really wanted to buy, and to make the trip worth it, I bought 3 packs of hockey cards, UD Series 2. I've changed my favorite team again, this time being the Columbus Blue Jackets along with my old favorite, Pittsburgh Penguins. And since Malkin is on the cover of UD Series 2, I had to buy a few packs.
I'm looking foward to Pittsburgh winning the Stanley Cup and the start of the 08/09 season, a new NHL video game, and all the new hockey sets coming out.
But for now, I'll stick with my 3 packs of UD Series 2.
Pack One:
Patrick Marleau
Tomas Holmstrom
Darryl Sydor
Paul Kariya
Rookie Materials Jonathan Toews Game Worn* Jersey
Jere Lehtinen
Shane Doan
Michel Ouellet (Victory?)
Some of the names in here already bring me back. Marleau, Holmstrom, Sydor, Kariya!!!, Lehtinen, and Doan. I used to love Kariya when he was with the Ducks. Odd to see him in a Blues shirt (yes I know he's played for other teams in between the Ducks and Blues).
*Game worn now means photo shoot worn....hahaha. Really odd but it's a jersey card and in my first pack of hockey, a solid way to start I think.
Pack Two:
Pierre-Marc Bouchard
Chris Drury
Robert Lang
Kimmo Timonen
Johan Holmqvist
Tuomo Ruutu
Jonathan Cheechoo
Nikolai Zherdev
Awesome pack. Robert Lang was a Penguin for awhile, and he's a pretty solid player. Ruuto and Cheechoo in the same pack are nice too. But the icing on the cake came in the Zherdev card. Zherdev is one of my favorite players and is a hell of a player too. I always have loved left wingers too.
Pack Three:
Derek Morris
Rick Nash
Ryan Malone
Martin Rucinsky
Brandon Bochenski
Philippe Boucher
Young Guns Matt Keetley
Mike Lundin Rookie (Lightning)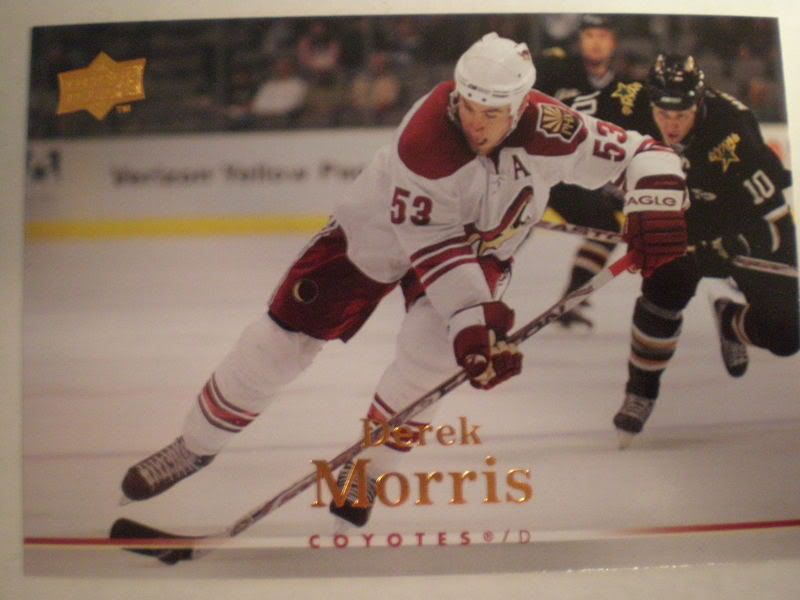 One (if not the) best offensive players in the game, Rick Nash as my second card. This is actually my first Nash card, and it's got a pretty cool photo. When I got to the Flames goalie card, I at first thought it was an insert for Kipper, but nope. Oh well, hopefully I'll pull a Kipper soon.
These cards are pretty awesome, and with the NHL Finals having my interest, now is a great time to get back into hockey. Plus once baseball is over I'll have a full plate between the NFL, NBA, English Premier League, and the NHL.
GO PENS!