I did a post about this months ago, but I love Exquisite. I have never opened a pack, nor will I probably ever. And that's alright because I could never imagine the shame I'd feel for spending a ton of money on a pack of the stuff only to pull a not so great hit.
Instead, I scour Ebay for one of my favorite player's cards, Jeremy Sowers. Sowers I don't think will ever amount to anything special, even though at one point he was compared to Tom Glavine (whoops!). But looking at what few cards are available of his on Ebay, I came across this gem.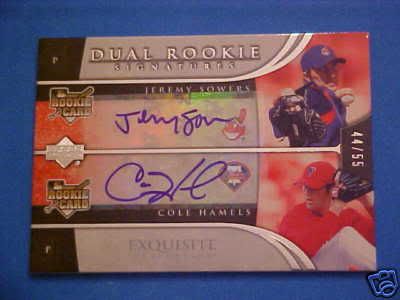 Sowers will pull the value of this card down, but to be a dual auto /55 with the World Series MVP in Cole Hamels makes it pretty cool. The card currently sits at $1.25 with $2.99 shipping. If I do bid on this card, I'm sure it'll be against a bunch of Phillies/Hamels fans.