Damn. Paying bills has to be the worst part of growing up.
Yesterday I was browsing the Italian and United Kingdom's Ebay websites hoping to find some new Football Champion cards. Usually on the Italian site I find the rare Lega Promos from the 2003-2004 seasons. These cards are priced anywhere from 8-25 Euros.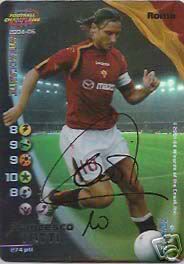 The above card is Francesco Totti's 2004-2005 Signed Card which is priced at 25 Euros. I'd never pay this much for any Football Champions Card, especially Totti. Actually, I'd probably pay something close to that for any of the rare Del Piero Cards, or a Zidane.
Ebay Italy doesn't really offer much aside from 2-3 large lots of cards. Last time I bought one of those, the cards were in horrible condition and the few foils I got (Mutu, Adriano) were in horrendous shape. I guess that's what I get for trying to get a foil card of a guy who loves to blow coke (Mutu).
Ebay United Kingdom has a complete set of the 2001-2002 Football Champions for 24.99 Pounds. Shipping included, you are paying about 60 dollars for all 330 cards. That's not a bad deal at all, and Football Champions is a great game to play and it's not hard to learn at all.
However, one auction that I'm most likely going to spend some money on is a lot of 14 Juventus cards from 2003-2004. Everyone is included from that year in the set, so I'd be getting Buffon, Nedved, Davids, and of course Del Piero. For about 12 bucks, it's a steal.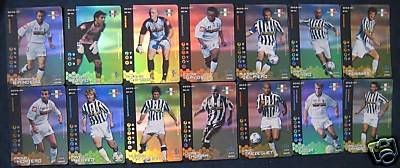 I know soccer isn't a very popular sport in America, but if you are curious about these cards, I have plenty to trade out, or even send for free if you'd like to learn the game. Just drop a comment.