Late last night, I was searching everywhere to find Futera cards to purchase. After witnessing the box breaks of Unique (a post below), I wanted to bust some of the packs pretty bad.
The first step in achieving this would be to find out where to buy the cards State-side. Futera's web-site doesn't really offer much help in that regard, mostly due to them updating the site.
The next logical step was to contact them about information regarding purchasing in the United States. What I received back this morning was a complete shock. Not only did I get a reply, but I received it from the CEO of the Company.
Here is the email:

Hi, Andy

Great to hear from you, and thank you for taking the time to write to us, really appreciate it.

Yes, we ship internationally, and we'd be very pleased to send you some details about the collections.

Right now we're into the production of our new World Football Online Game Card Collection which is an interactive online football game using the trading cards which carry codes enabling different player card ratings and 'power play'. The Collection also features Limited Edition Memorabilia Cards of top international soccer players. We're scheduled to run a Trial Tournament of the Game in a few weeks' time (January) where people can get a chance to 'play for free' and get a general feel of the game. The actual Card Collection and the full Game is due to release mid February. We're actually going to give EVERYONE 15 free cards to start with anyway, so everyone CAN still play for free when we launch. Obviously the more rare cards are randomly inserted in packs to hunt for and collect which will help improve your team's winning chances, but we hope many people will be able to enjoy this new trading card game which we believe brings a new, unique dimension to the hobby.

We're currently updating our website with information, checklists and facts about the historic Futera collections together with sample pictures of some of the cards from each collection since the brand started around 20 years ago... so that might be of interest to you. And we've also got a Collectors' Forum where people can discuss things, ask questions, find answers, trade/swap/buy cards....

If you can bear with me for a few weeks whilst we get through the launch of the new collection, I'd be pleased to try to put together some information about the collections/card/history of Futera and its cards – if there is specific information/detail you would like please email me so that we know how best to be of help to you.

I hope the above is of some help/interest to you; please let me know if I can be of further assistance, Andy.

Thank you again for taking the time to contact us, and have a great Christmas!


Kind regards,

Gwyneth Glascodine

CEO
Futera FZ LLC
The new game that is talked about reminds me of the Japanese game WCCF. Some of those cards fetch top dollar on Ebay. Plus the addition of memorabilia cards in the set is something I always thought would be a good inclusion.
Also part of the emails were attachments for the new game, which are shown below: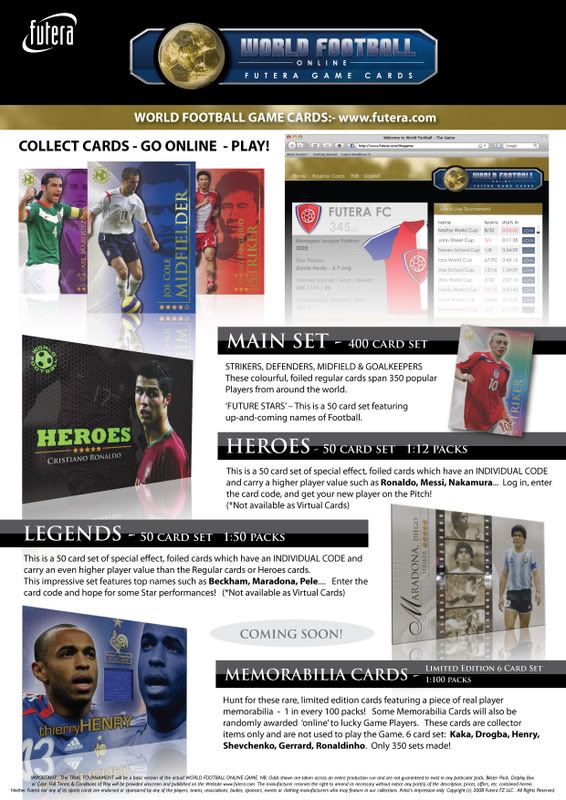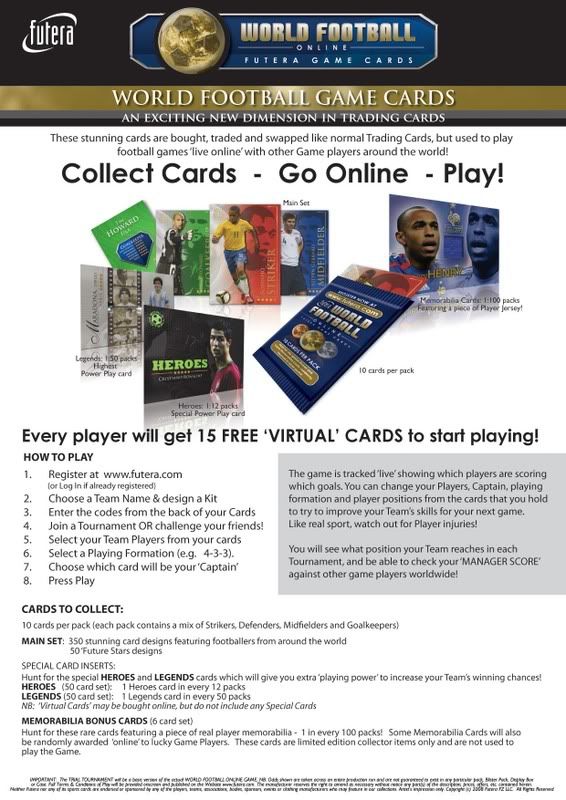 This set features 350 base cards and 50 Future Stars for a total of 400 cards. That's quite a big set, but seeing as how it's players from around the world, with such a huge array of footballers it's probably pretty tough to narrow it down to 400.
There are two main insert sets, Heroes (1:12 packs) and Legends (1:50 packs). The memorabilia set is just six cards, not serial numbered. One of which is French stricker (and Barcelona foward) Theirry Henry. These cards are (1:100 packs). It'll be very interesting to see how much money these memorabilia cards sell for since they aren't numbered, but seeded (on average) 1:100 packs.
I plan on testing the online game out sometime this week, with even a possibility of tonight.
Once again, I'd like to thank Gwyneth Glascodine to take the time out and answer my questions.