In my time of being a soccer (football) fan, I've never really been able to purchase cards of my favorite players that are currently playing. All I've ever found were Football Champions, which I've covered on this blog. However, last night while scouring Ebay for Alessandro Del Piero (best Central Foward ever) and Zinedine Zidane (best midfielder ever) items, I came across some game used cards of other players. I had never seen such cards, and did a bit more research. Turns out, the cards are made by a company called Futera, who in the early 90's dabbled in MLB and NBA cards as well as Football.
The first thing I did was search Ebay to see if I could buy a box of this stuff. Unfortunately, I was not able to find what I was looking for. Right after this miss, I scoured Youtube for a bit, when I came across a Futera set called World Football. To me this set would most likely be a mid to high level set.
What's neat about World Football, is that the 2007 set is 200 cards deep, and every player featured is in their National (Country) Team Jersey. Of course, there are the jersey and autographed chase cards in there as well. The 2007 set had a print run of 6900 boxes, and all are hand numbered.
Here is one of the cards you can find in this set, a game used swatch of French Midfielder, Claude Makelele. The card is numbered to /275.
The second set I came across I believe would be the end all of sports card sets if it were produced in America. It is called Futera Unique World Football. So you could get an idea of what this is comparable to in America, I'd go with Exquisite, on crack. There are quite a few of these cards on Ebay currently, and are priced very high, but then again so are the boxes. I went right to Youtube to see if I could find any breaks of this set, and was lucky enough to find a couple of videos all done by the same person, whom I have contacted and will be putting his box breaks on this site in the next post.
Example of a Futera Unique Card below, former Tottenham Manager, and favorite of mine, Martin Jol. Jol is now the coach for German team Hamburg, who have been simply dominating in the Bundesliga. I'm glad for Martin as he didn't deserve to get fired by Spurs and the evil empire that was Levy/Comolli.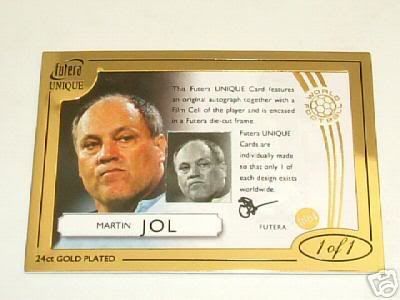 This card is surrounded by a Gold Plate and a 1/1 stamp on the bottom right. The back of the card is Jol's autograph, written on the WHOLE CARD. Unbelievable card.
Having the urge to break any Futera Product, I emailed Futera directly about if they shipped to card stores in the United States. I didn't expect a reply due to it being nearly Christmas time coupled with the fact that they probably receive these emails all of the time. What I did get though, was a direct response from their CEO, Gwyneth Glascodine, which I will also post a little later. Not only am I shocked that the CEO of the company would directly respond to my inquiries, but I'm very appreciative of this, and wish the heads of American Card Companies would do the same to the many bloggers and customers out there. Thank you very much Gwyneth.