Congratulations to Rickey Henderson and Jim Rice.
I've had the pleasure of watching Rickey Henderson a few times throughout his major league career. When I was first growing up, when I heard Rickey Henderson, all I thought about was Road Runner-esque speed. To this day, I have no idea how a man could ever steal 130 bases in a year. I remember back in the mid-90's when Kenny Lofton would steal 65-70 bases and I thought that was insane. But 130 bases, my god.
I'm probably one of the few that could actually say they saw Rickey Henderson get picked off by a pitcher. I believe it was when he was with Oakland. My dad and I had tickets behind the visitors dugout and Rickey got on early in the game. We were watching Rickey take his lead and a moment later walk back to the dug out. I asked my dad, "Did Rickey just get picked off?" He looked at me and said "I think he just did." We were both completely shocked it had happened.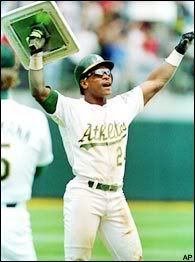 Jim Rice played well before my time. The only things I really know about him was that he played for Boston, was a tough power hitter, and whatever else Baseball Reference tells me. I refuse to listen to the morons at ESPN talk about Rice because it will all filled with pro-Boston nonsense.
Not to knock Rice, because his numbers are good, but a .298 career average? 382 Home Runs? Yes he was a monster power hitter in the 70's (77-79 he didn't hit less than 39 HR's). C'mon now Baseball Writers of America.
You've made Ron Santo wait. You've made Bert Blyleven wait. For what? Because they weren't Boston Red Sox? I'd really like to see in the coming days how the writers will explain themselves.
Also, if Rice can get in, than Albert Belle should be a lock. And before you tell me he was on steriods, tell me one time when he was caught with any banned substance in his body. Also, if Rice got in, than Fred "Crime Dog" McGriff is a pure lock. 493 Home Runs is more than enough in my opinion. One of the classiest players to play the game during the 1990's.