Age 23, First Full MLB Season Stat line:
17-8, 214.3 IP, 92 Runs Given Up (83 Earned), 205 K, 3.49 ERA, 1.232 WHIP
Not bad at all. Imagine the comparisons that are linked after a first full season with those stats.
Oh boy, this guy is HOF bound!!!
Age 24, Second Full MLB Season Stat Line:
23-5, 229.3 IP, 79 Runs Given Up (70 Earned), 182 K, 2.75 ERA, 1.134 WHIP
Amazing. Even the Baseball Writers of America thought enough of this season to award the player the 2002 Cy Young Award.
Yep, that's right, I'm talking about Barry Zito. All throughout high school and summer league baseball Zito was my favorite player. Oddly enough, he became my favorite player when in 2001, I went to the mall to purchase a pack of MLB Showdown 2001 Pennant Run Cards. Needing a solid number 1 ace for my team, I bought a pack and opened it to find none other than Zito's amazing card. Not only was this card really good in the game, but he was a lefty, much like myself.
Zito's claim to fame outside of his Cy Young was his nasty 12-6 Curveball that I tried to emulate, with moderate success. Over the rest of my high school years (oddly enough the whole time he was in Oakland), Zito was a dominant force with two other pitchers, Tim Hudson and Mark Mulder. ESPN as well as many other baseball writers ranted and raved over the "Big Three". But after 2004, the Big Three were nothing more, Mulder was off to St. Louis and Huddy was in Atlanta.
During a late 2004 card show, I went and bought some 2002 Topps packs, hoping to get a game used card. What I got instead was a 2002 Topps Autographed Zito card. To say the least, I was ecstatic. The card was awesome, and Zito's autograph was pristine.
His next two seasons with the A's were alright. I never did get to see him pitch in person, but I got his Autograph in 2005 at a game, which is one of my favorite pre-game moments, right up there with Albert Belle telling me "shut the hell up kid" back in 1995 when I was 8, at Tiger Stadium.
After the '05 season, he cashed out and ran across the Bay to San Fran, only to become completely irrelevant in card collecting and the Majors.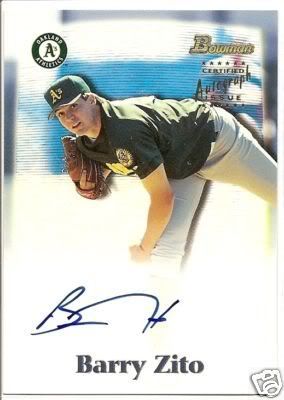 This Bowman 2000 Auto is currently going for under $10. A few years ago, you'd be laughed at when offering $10 for this card.
I've got two questions regarding Barry:
Are there any Zito collectors still out there?
What do you think was the reason for his downfall?