What is so special about Jackie Robinson?
-Broke the color barrier in MLB.
-1947 ROY
-1949 MVP (7 other times to be top 20 in MVP voting)
-6 time All-Star
-Career Averages of .311/.409/.474
When people mention baseball, Jackie Robinson usually is one of the first players mentioned. Not only was he fantastic player on one of the most historical teams (Brooklyn Dodgers), but he did what nobody thought was possible when he broke the color barrier in '47. And it still shows today how much people think of him when they shell out thousands of dollars for game used items. Even in the sports card world, Jackie Robinson commands top dollar. And he should.
Perhaps it's just me, but there is someone getting overlooked here. That same year, another African American played in the Majors, a few months after Jackie. He was the first colored man to play in the American League.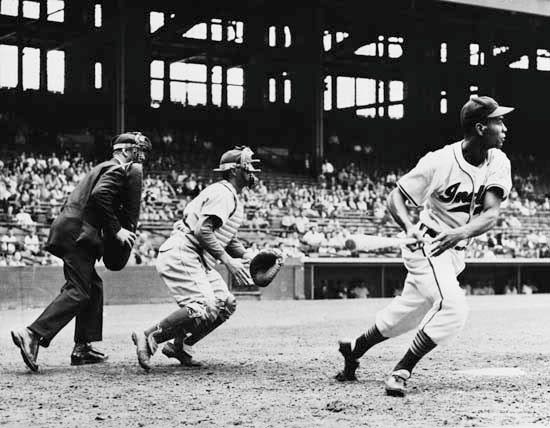 Larry Doby. A 13 year career that encompasses:
-Averages of .283/.386/.490
-6 All Star Games
-4 MVP Votes (29th, 8th, 12th, 2nd)
-253 Career Home Runs
Larry has been honored by being selected to the Baseball Hall Of Fame (1998). He is one of Cleveland's most famous sports figures. The Indians honored him back in 2001 by selecting him to the franchise's 100 Greatest Indians.
However, when it comes to collectibles, Doby doesn't have much out there. Back when the All Star Game was in Cleveland in 1997, I got to go to the Fan Fest. There's always a card show and all the top brands are there giving promo items out. I received a 5 card set of Jackie Robinson. 1997 was the 50 year anniversary of the color barrier being broken. You would think that with the ASG in Cleveland, there'd be something for Doby too. Nope, not at all. Since the inception of Jackie Robinson Day back in 1997, every team has retired the number 42, and in April, every African American player puts on a 42 jersey to signify the relevance of Jackie.
There is no Larry Doby day. Only the Indians wear a number 14 jersey to commemorate Larry's entering the Majors.
A search on Ebay of Jackie finds many cards from new releases (Sterling, Premier) with Game Used Items, Cut Autos, and even Base cards. A search for Larry Doby and you'll find a few cards from 2004, an MLB Showdown card, and an 04 Sweet Spot Patch. What sucks about the patch is it's from his time with the White Sox while clearly his picture above has an Indians "C" cap on. Way to go UD.
It's a shame really that Larry Doby doesn't have more cards in new releases. Maybe the card companies can't get Doby items to put onto cards or there just isn't much Doby items out there, but I'd love to see more Larry Doby items in releases in the future.