The NHL All-Star Game was played last night, did you watch it? Did you even know it was on TV? Do you even have any idea the NHL still exists?
The All-Star Game was on at 6 pm last night, and I searched every station to watch it. No luck. In fact, I just found out the score and the MVP (12-11 East in a Shootout; MVP was Alexi Kovalev). I've been hockey-less since October, when Time Warner Cable got rid of Versus. I can catch a Blue Jacket's game here and there, but other than that, I don't see any NHL action at all.
Nearly 10 years ago, the NHL was coming down from it's peak. The Red Wings-Avalanche rivalry helped put hockey into the upper echelon of American Sports. ESPN2 would carry plenty of hockey games. ESPN and Barry Melrose would talk hockey and show highlights all the time. Now the NHL is lucky to get 1 clip on ESPN a day.
Ever since the lockout that wiped out a whole season, the NHL has become virtually invisible to Americans. I'd even guess that the MLS draws more viewers.
The new 2008-2009 SP Hockey (Upper Deck) comes out soon also. Since dinosaur teeth are already taken in another hockey set, this set's gimmick will be fight straps. Fight straps are the little straps on the lower back of the jersey to keep the player's shirt on him while in a fight (common sense, no?). I think this sounds pretty neat. Unfortunately, most of the fight straps are white, so the card's patch/strap won't be very appealing to many. Although this prevents any chance of having different colored relics on the card, making it nearly impossible to counterfeit. Unless of course Upper Deck adds some "blood" to some of the relics, but that's usually the kind of gimmicky crap Topps does.
Check out some of the cards here: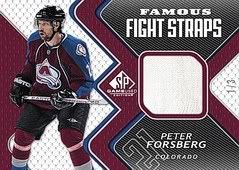 Legend.
This card would have been much cooler about a week ago. Both these guys recently stopped their hatred for each other at this weekend's All-Star Game Festivities. While both are superstars in the NHL, the lack of rivalry doesn't make the card as interesting anymore.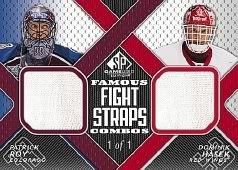 This is what I'm talking about. Detriot versus Colorado. Legendary stuff right there. These teams hated each other and even the goalies would fight each other. Patrick Roy is on this card and so is Mike Ver....wait, Dominick Hasek. What? Upper Deck couldn't get a fight strap of Mike Vernon? Or Chris Osgood? Are you serious? Both goalies on this card are amazing and will be in the HOF eventually. But for a 1/1, this card NEEDS TO HAVE Vernon or Osgood. Way to drop the ball UD.
Hopefully Hockey can regain it's Coolest Game On Earth status someday, but until that day comes, I'll be searching for channels on TV to watch the NHL.